COVID-19 Update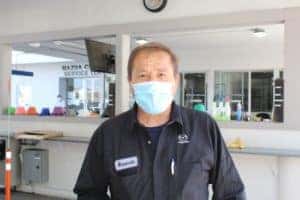 RE: COVID-19 UPDATE & HOURS OF OPERATION
To Our Valued Customers,
As the situation surrounding the Coronavirus (COVID-19) continues to evolve, we at Hello Mazda of San Diego are
closely monitoring the updates and following official guidance from the Center for Disease Control (CDC),
as well as other expert health and federal officials.
REVISED HOURS OF OPERATION:
Sales Department: Monday – Saturday 9:00 AM – 7:00 PM; Sunday 10:00 AM – 6:00 PM
Service & Parts: Monday – Friday 7:00 AM – 4:00 PM
Body Shop: Monday – Friday 7:00 AM – 4:00 PM
Here is how we are making your experience at Hello Mazda of San Diego convenient and safe:
▪ Shop our inventory at www.hellomazdasandiego.com, contact our sales team by email or phone and
start the buying process online. We will be offering off-site delivery for new and used vehicle
sales.
▪ Complete your sales transaction wherever you feel most comfortable. Home, work, or at
the dealership.
▪ If you are unable to bring your vehicle in for service, we offer the option of concierge pick-up and
delivery of your vehicle within a 12-mile radius.* (Based on availability) *Our Valet Service for Pick-Up and
Delivery of our customer's vehicles for service has a $30.00 fee ($5.00 for each additional mile), and we will bring you a Free Loaner if you need one.
▪ As always, we will have Mazda loaner vehicles available when you bring your vehicle
in for service.
Rest assured we are taking extra measures to keep a safe environment for our customers and employees. We
continue to maintain high standards for safety and cleanliness and we are taking all precautions to keep our
vehicles, facilities and work spaces clean and sanitized.
All of us at Hello Mazda of San Diego appreciate your ongoing support and understanding during this very
challenging time in history.
Thank you for being a valued and loyal customer.
Sincerely,
Dave Miller
General Manager